No matter how much I strive to have a grateful heart, sometimes a need arises in someone else's life that makes me realize I'm taking something for granted. These things can range from freedom to health, family and friends to spiritual enrichment. If I'm not careful to think globally, I can get extremely comfortable and oblivious to the world's desperate need for Jesus while I dust off (haha! who dusts?!?) my three bookshelves full of books that explain various Biblical topics or not notice the overabundance of church buildings I pass in any given trip around town.
That's why I'm grateful that God is always keeping someone in my life who lives globally. The cocoon I've built around my sweet little family is great for building security for my children, but it will not benefit them if I don't let them peek outside and see the souls in need in our community and the world. There are thousands of people who want to know more about Jesus every day. They aren't rolling their eyes at self-righteous posts on Facebook or trying to figure out how many times a year they should make an appearance at the church down the road. They are searching for Truth, hope, an unfailing love, and they don't have the luxury of picking which congregation or piece of literature is going to make them feel good or challenge them best.
One of the people in my life that challenges and reminds me to think outside my little world is my cousin Jordan. He didn't set out to be a missionary in a foreign land when he began working towards his business degree in college. He simply went on a missions trip to the Philippines over Christmas break one year and came back changed.  A couple more short-term missions trips later, I remember meeting him for lunch one day as he was trying to figure out how to make use the talents God had given him to make a difference in the lives of these people on the other side of the world. They were hungry for change, but they didn't know how to do it by themselves. His story inspires me to not pigeonhole how I do ministry to what my past experience or degree says I am qualified to do.
He ended up working with a fantastic organization called Convoy of Hope, which many of you have probably heard of. What you may not have heard about is one of their ministries called the Women's Empowerment Program. For the sake of keeping this post from getting too lengthy, I will let you check it out on your own if you're interested, but I'm in love with the mission they are helping women in various countries around the world accomplish.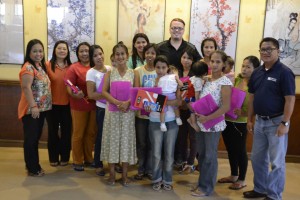 Jordan had the opportunity to head up the pilot program in The Philippines. I want to share a letter he sent out to his friends and family after he got back to the states last month about a specific and urgent need for a church building. Since he sent out this letter, the need became greater as a typhoon brought a lot of destruction to the very city where these people are begging for a church.
Friends,
As many of you know, I spent January through July of this past year in the
Philippines piloting a Women's Empowerment program for Convoy of Hope – a
global faith-based NGO based in Springfield, Missouri. The purpose of this
program is to target at-risk women (single mothers, low-income families, etc.)
and holistically empower them and their families to live better lives. This
empowerment includes an education in how to choose, operate, and manage
their own business and grant funds to get that business started. As a result of the
microenterprise education and grant funding over the past months, ten women
and their families have experienced a 258% increase in daily income and are
saving money regularly for emergencies and future business expansion. Women
also received extensive education in parenting and women's health.
However, as you know, it is impossible to holistically empower a person without
addressing their spiritual needs. Most of the women and their families were
unsaved with many never having heard a presentation of the gospel in their
language. Thanks to a partnership with the International Mission Board, a
Southern Baptist missionary named Greg was able to share the gospel weekly (in
Tagalog) with a group of around 60 women and their families. After eight weeks,
seven participants, one husband of a participant, and two children accepted Jesus
Christ as their Lord and Savior and followed him in believer's baptism in the
South China Sea.
The ten participants and their families – around 50 to 60 in all – continue to meet
in a house church where there is no separate area for children's ministry and in
which there is literally no room for one more person. With additional
beneficiaries to be added at the end of this year, there will be no place for this
growing church in the community of Market View to meet. There is a great
potential for outreach in Market View if there is a place for believers to gather.
Following in the direction of the work the Lord is doing and in a move to
address a ministry need in that area of the Philippines, I drew from my personal
savings to put a down payment on a vacant lot in an urban poor area of Lucena
City. I paid a surveyor and architect to prepare primary plans for what a church
at this site would look like and cost. I did this not because it is easy or certain – in
fact, I absolutely do not have the money to see this project through on my own. I
took this dive of faith because I am 100% confident that the Lord will provide for
this need that He has brought to light.
I tell you about the steps I've taken not to bring praise to myself in stepping out
in this way. I just want you to know how much I believe in this work that the
Lord is doing; in other words, this is not just a whim that I have, it is serious and
necessary work that I believe enough in to have invested in myself. I have also
attached a funding proposal that details the background, plans, and needs of the
project.
I am asking you to come alongside the body of believers in Market View in this
work. One of the church members, Carmen, had the idea that we should daily lift
this need up in prayer, so if you would like to join us, we are praying daily at
11PM Philippines time – 10AM Central time. Set a reminder on your phone or an
alert in your calendar and pray that the Lord would continue to guide and bless
these believers and provide for their needs as they desire to reach out to their
community.
I used to be shy in asking for financial support, but I know that just as the Lord
works in the hearts of people to bring ministry needs to light, He is
simultaneously working in the hearts of people who have the capability to give.
If you have questions about this project, general questions about the church
planting movement in the Philippines, or would like to give, please contact me. I
would love to share more with you about what the Lord is doing and how you
can be a part of that work.
May all that we seek to do be Spirit-led.
Jordan
Would you be willing to become a part of this exciting endeavor?
I have been praying daily for this church's financial needs to be met so more can be reached and transformed by God's grace. Would you consider joining me and people on both sides of the globe in prayer every day?
The financial need is great. They are in need of around $9000 by the end of the month. God can provide that, but the approach I'm taking is this: "What if God used me to help provide that?" I know I can't make a significant dent in that kind of financial need, but God could still use a little bit from me and a little bit from you to work together to be the church and encourage people who are hurting in many ways right now.
I'm reminded of this description of the first church established after Jesus was on earth, and I feel especially challenged to follow this example.
Now all who believed were together, and had all things in common, and sold their possessions and goods, and divided them among all, as anyone had need. So continuing daily with one accord in the temple, and breaking bread from house to house, they ate their food with gladness and simplicity of heart, praising God and having favor with all the people. And the Lord added to the church daily those who were being saved." ~Acts 2:44-47
If you are able to contribute financially, or if you have a small group or Sunday school class who might be able to team together to make a contribution, please contact Jordan by email at <jordanleetaylor@gmail.com> or phone (417)839-3406. He can answer any specific questions you have, and has laid out the details in subsequent emails, so he is ready to receive your queries as well as encouragement from other believers that God is at work in this situation. Thanks so much for taking the time to read about one way God is doing a good work in this world that is full of heartbreaking, heavy news. He is still working, and He uses people like us to accomplish His plans.