As I'm easing my way into summer, I'm looking forward to writing more. To get reacquainted with my blog, I'm wiping away the virtual cobwebs with something I had the honor of sharing at my school's baccalaureate a couple of weeks ago. The theme of the evening was the Fruits of the Spirit, and the students who put the service together had a different person speak about each fruit, connecting it to a physical piece of fruit. 
I was delighted to receive the task of discussing a quality that I believe in so much – kindness. 
It's a human tendency to fail to see the beauty in the ordinary. We are attracted to flashy things that make bold statements. Trends draw us into them and make us lose sight of the things that seem common or dated.
It's this very tendency that makes the fruit of kindness such a strong evidence of the Spirit's work.
Sandwiched in the middle of the qualities listed in Galatians 5, kindness isn't there to blend in. Rather, it's there as a backbone for all of the other fruits. Its quiet strength speaks volumes, and it is completely content to go about its invaluable work, even when it goes unnoticed by others.
When I was thinking of which fruit I believed best represents kindness, I thought of the apple.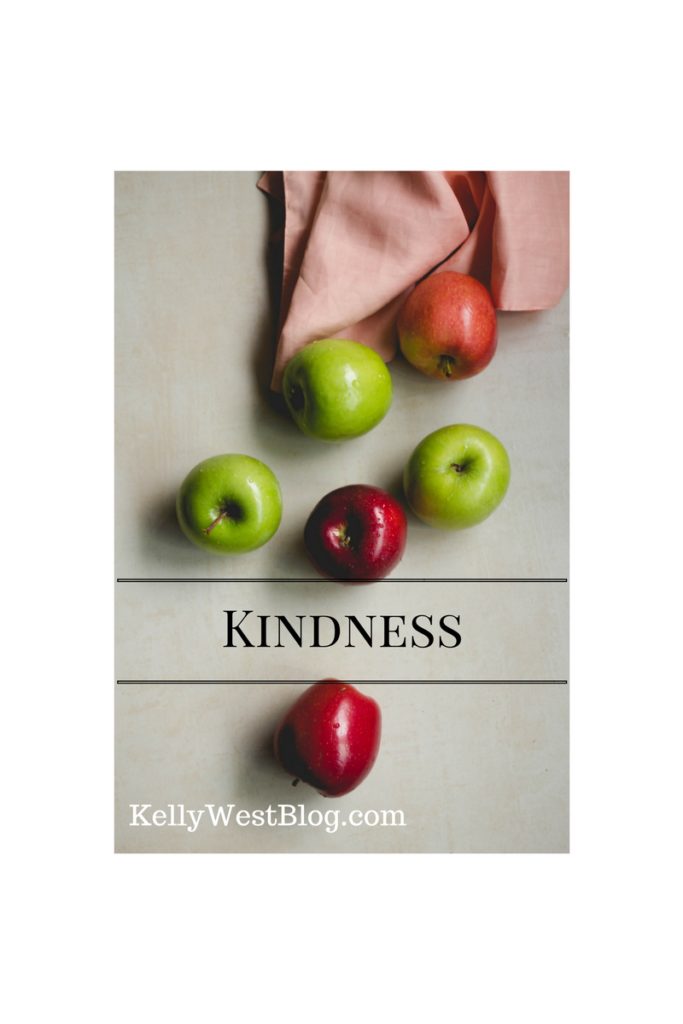 Much like kindness, one might argue that the apple is one of the most ordinary of fruits. There's nothing flashy about it. It's the fruit that people go to without really giving it a second thought, but at its core lies the tiniest, most powerful source of the life of faith.
We decide whether or not we like an apple by its skin. Each color embraces a distinct flavor that the consumer will either find off-putting or appealing. What's fascinating about kindness is its ability to be pure in how it functions, in spite of how others view it.
Kindness doesn't pay so much attention to the color of the skin, rather it realizes that underneath the skin, all apples have the same color of flesh. Kindness is the great equalizer. It's the thing that sees what we all have in common and, as a result, pours out empathy on everyone around it. It understands that there is no point in judging because we all have a common need for grace. Grace can not be understood without kindness. Showing kindness is living out grace so that others see that it is possible, even though it's undeserved.
The thing that is the most compelling about the fruit of kindness is the power of its tiny seeds. While the world might scoff at kindness and view it as weakness, in reality the small seeds of kindness that are intentionally planted understand their potential to change the world.
Much like the apple seed, when a seed of kindness is planted, it will often go unnoticed by those who pass by. It will even be trampled upon as it silently yet diligently sprouts its roots into the soil. Given time, the seed of kindness grows to provide a better world. A world with a tree that provides shade, a place for a traveler to rest while on a long journey, a place where children can climb and see the world from a new perspective, but most noticeably of all, it produces an abundance of fruit.
This is the beauty of what might have seemed just a simple fruit: it is most effectively accomplished in the ordinary. It can look quite different from one kind to the next, but on the inside it sees itself and others for who we really are. And it provides seeds that, when faithfully planted and tended, grow into one of the strongest producers of rest, joy, and nourishment – kindness.