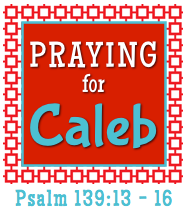 Prayer is powerful.
That simple little sentence is something that is easy to say, yet it hardly begins to encompass the depth of its truth. God speaks of the power of prayer throughout His Word. He took time to teach His followers how to pray. He led by example multiple times during His years on earth. He includes story after story of how He listens to the prayers of those who love Him.
Keeping all of that in mind, I'd like to implore anyone who reads this post to lift up a sweet, unborn little boy named Caleb up in prayer. His mommy and daddy, Desiré and Matt, found out at his 19-week ultrasound that he has some serious heart problems and will require open-heart surgery immediately after being born in April.
You may already know Desiré. She blogs at When You Rise and has even been kind enough to share some great insights on ministering while being a mom here on this blog. (You can read them here and here.)
If you would like to find out more details about Caleb's condition and want to be able to keep up to date with developments and prayer requests, be sure to like the Facebook page they've set up for him. I personally appreciate resources such as this Facebook page to make sure I keep such an important matter of prayer at the forefront of my mind. Plus, I find it a blessing to see community forming over something as amazing as prayer for a family in need of it.
So let's pray for Caleb! God has a specific plan for his life, and I count it a privilege to have a part in it being fulfilled by praying for him. Join me?