Excuse me while I gush about the latest book I read.
Have you read The Nesting Place by Myquillin Smith?!? I can NOT encourage you enough to check it out.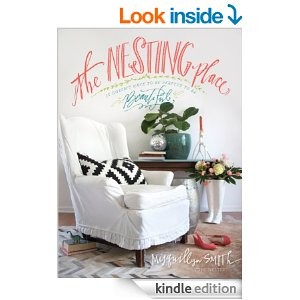 I'd been wanting to read it because I'd heard good things about it, so I put it on my Christmas wish list and started reading it within 5 minutes of the wrapping paper being thrown away. I loved so many things about it.
She hooked me with the way she wove her personal story into a book that gives so many practical, do-able decorating ideas. Also, as much as I love reading, it was refreshing and fun to read a book with so many pictures. 😉
I've shared quite a bit lately about the fact that I'm going through a personal overhaul in pretty much every aspect of my life. It's tough, y'all. I've learned so many difficult truths that need applying to my life that I have literally made myself sick in the process of working through them. As I'm reaching a balance with it all, I am grateful in a completely new way for my life and the blessings God pours on me every single day, but I'm tired. I've been reading and thinking through some heavy stuff. Necessary without a doubt, but wowzers.
I needed this book because it was a breath of fresh, reassuring air for the new me that is breaking out of the old self.  The old me was weighed down by a lie that I no decorating sense and an insufficient budget to decorate my home the way I wanted.
Not far into the book, I started realizing that this simply wasn't true. If I am going to embrace freedom, it needs to be evident in even this area of my life. I may make some train wreck decorating decisions along the way, but at least I made a decision! When I take a risk to hang up something on the wall, it is one more way that I am crushing insecurity or feeling defeated or inadequate.
So I started doing little projects that made our home just a little more homey. So far I've spent a grand total of $13 and I've been smiling much more!
One of the best purchases I made were these Command Picture Frame Strips. They were $5 for 6 sets at Wal-Mart. These things are genius. Who would have thought that Velcro would hold up a picture frame just as well as a nail or screw? They do, and I love that I don't have to haul out any tools to hang up the frames that I had piling up in my closet, because let me tell you, they were really starting to pile up!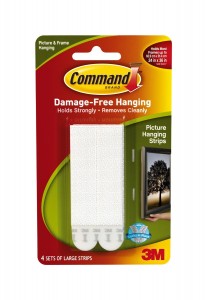 I hung up these frames my mother-in-law got for me when we went thrifting a few months ago.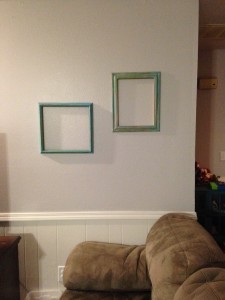 I liked that they helped fill an awkward blank space on my wall, but I felt like they needed a little something more. I'm not sure what I'll put there for the long-term, but I decided to go ahead and use resources I had on hand to make them have a bit more color and personality until I find just the right thing.
I dusted off my Cricut and scrapbooking container and came up with these simple monograms that tie in the colors of my living/dining room area. Is it perfect? Nope. But I love it anyway. Plus I got to do it while watching Lord of the Rings with my husband.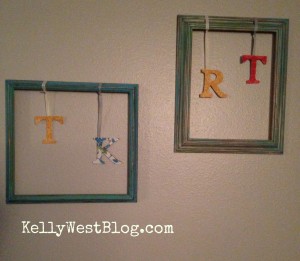 The big purchase I've made to bring more happiness to my living room is an $8 floor lamp. When we bought our house 6.5 years ago, we were clueless first-time home buyers. Our house has proven to be a perfect starter home. Truly.
But.
The lighting is bonkers. As in, no room in this house has a light fixture centered in the room. Every room has a corner inset light. It makes for some very dark rooms, which has driven me crazy more times than I can count. We are about as expert on electrical wiring as we were about home buying, so we have not made any changes to the light fixtures. I've spent years. YEARS! believing that there was nothing I could do to make the lighting better in my living room. In addition to inadequate lighting, the builder decided to not put a window on the outside wall of the living room. Who does that?!? I've added a large mirror on that wall, which has helped, but I finally got around to buying a cheap floor lamp to put behind the recliner in the opposite corner from our can light.
It's like we put a chandelier in the middle of our living room! Light is a beautiful thing, and it improves my mood more than I could have imagined. I actually spend time in my living room at night now with a smile on my face.
Another small nap time project that brought an extra touch of pretty to Daisy's room is this diaper wipes box that I covered with some fabric I've had setting unused in a drawer for years now. She now has a storage box to house her books and it cost me zero dollars.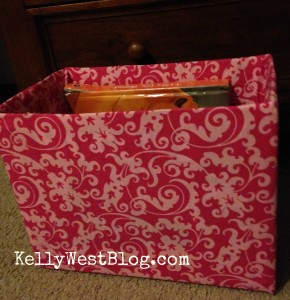 Sometimes choosing to live a life of freedom requires major changes in lifestyle, but then there are the little things that can bring an extra smile and sense of pride like hanging empty frames and gluing fabric to a cardboard box.
These are the freedom stories that can get me excited when I don't have the energy to wrap my brain around the big ones. I hope they inspire you a little, too.