Fridays are usually days of celebration for the general public, so I decided to get in the spirit and celebrate some of my favorite things from this week. Granted, we never know what day of the week it is around our house since my husband's schedule is different from the rest of the world's (24 hours on shift, 48 hours off). So maybe I'm writing this post in an attempt to get back in touch with the rest of the world's obsession with TGIF….even though I'm actually writing this post on a Wednesday night. Or maybe I should just call these kinds of posts my "rambling posts" since that's exactly what I'm doing. You're welcome. Or I'm sorry. You pick whichever response you like.
I'm not really sure why I haven't tried making my own frappes yet. I just haven't. Until this week, that is. I tried this one, and it was pretty fantastic! I threw in a few chocolate chips before blending to make it more like the java chip frappe from Starbuck's.
Did you see this post from Scary Mommy comparing Back to School today vs. the 1970s? I laughed out loud so much! The Internet has birthed some crazy notions in the minds of today's parents, and I'm no exception. I'm thankful that God has given me a boy who balks at the cute, picture-perfect stuff so I'm constantly reminded to keep it simple and make it more about my kids and less about me. 😉
Speaking of kids, my daughter is already quite the shopper. We went to the mall to walk around this weekend, and when we let her out of her stroller to roam, she bolted to Forever 21. My heart was secretly quite proud. She was drawn in by the music because she LOVES to dance to whatever music she hears, but she stayed in because of the jewelry and shoes on display for her to adore and try on. I know the picture is blurry because she wouldn't stand still due to all of the dancing and adoring of merchandise that needed to be done, but I kind of love this picture of her.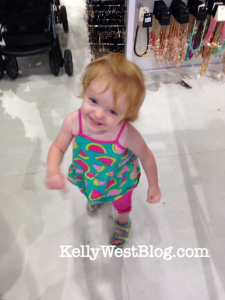 While we're on the subject of shoes at Forever 21, these are definitely winners in my book.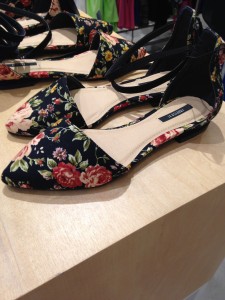 And speaking of music to dance to, I can't help but listen to Taylor Swift's new single over, and over, and over again. I just can't help it. I'm not a big fan of the twerking in the video because I think that kind of dancing is gross, but the lyrics need to be my anthem. Haters gonna hate, but I like that sick beat she's gifted the world with. 😉
I read Elizabeth Esther's book Girl at the End of the World in a day and a half this week. It's an easy read in the sense that her writing style and the book's length make it quick, but her accounts weren't easy to read. I've been exposed to my fair share of fundamentalism taken to the extreme of legalism, so I could relate on a much less severe level with what kinds of things she has worked through to overcome it all and find freedom and a relationship with Jesus. She grew up in a cult-level fundamental group, and I was heartbroken several times for her. There was a time when I couldn't have handled the book, but I'm at a place where I could empathize and get why she spoke so strongly at times. I'm glad she wrote it and have found myself mulling it over as I thank God for grace, freedom, and the ability He gives us to rise above our past if we let Him.
I've found myself applying this quote I came across on Pinterest several times over the last several days. So powerful. So true. LORD, help me to never forget it. (Don't follow me on Pinterest but want to? Come join me where I spend much of my spare time.)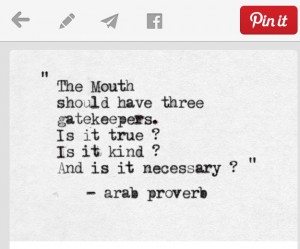 This post called "What Love Never Does" by Emily Freeman was so good!
Getting my son to recount the events of his day at preschool is usually more complicated than thinking up a clever simile to put here. Except right now, of course, because I can't think of a clever simile to put here. 🙂 Anyway, he doesn't enjoy doing it, but he does enjoy me telling him stories about my childhood on the farm. This week, he started gathering toys from around his room to stand in and role play as I tell my stories. Here's a picture of him holding my "family." I'm a stuffed dog, my mom is a dinosaur, my dad is a fire fighter figurine, and my sister is a Ninja Turtle.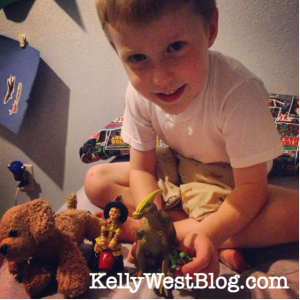 Since he was so into that, I had him start telling me stories about his day at school using his toys as well. It's going really well so far! I'm definitely getting more fiction than fact in his stories, but each day I catch him giving more details about what goes on in his classroom. We all win, and I love seeing what toys he picks as his characters.
My favorite Timehop picture of the week is from seven years ago when my man and I were on the beach of Grand Turk. We were young, carefree, and sunburned.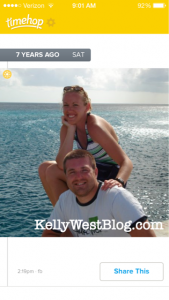 Lastly, it finally rained around here! Everything has been getting very dry and hot in recent weeks. I'm thankful that the majority of our summer was unseasonably pleasant, but after a solid week of heat advisories, it was such a blessing when God gave us a 10 minute summer shower. The kids begged to go play in it, and I couldn't refuse the chance to get out and smell the rain in the air while they splashed together.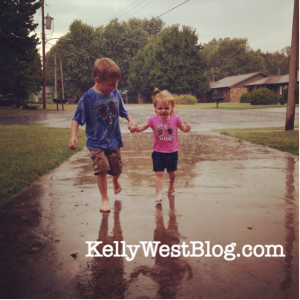 Want to make sure you aren't missing my posts? Feel free to subscribe using the handy box on the right sidebar. It's just under the picture of my eBook. Type in your email, but don't forget to follow the simple step in the confirmation email or it won't do you any good. I try to add one new post a week, but it doesn't always happen. I'm not a fan of a gazillion extra emails in my inbox, so I'm not offended if you don't sign up, but I do promise that you won't receive a ton of emails from me if you decide to join in and make sure you don't miss my updates. Have a great weekend!