Sometimes I go along through life doing my own thing when all of a sudden I stumble across a series of life hacks or resources that revolutionize the way I do things, at least for a while. Here are some of those things from my life lately.
1. Apparently I've been living under a rock because somehow I just started using the digital resources available from my local library. Do you know how many eBooks are available that way?!? A ton. Anymore, most everyone has some sort of device that will allow them to take advantage of what's available. I'm not just talking eBooks either. My library also has a ton of audiobooks and streaming videos.
I've added the app to my phone and my Kindle. I listen to an audiobook when I'm doing work around the house or hitting the treadmill at the gym, and I also have several books to read on my Kindle now as well.  I've been really wanting to try out Audible because I would actually be able to "read" a lot more if I could listen while I work, but I was disappointed to find out how pricey it is, so I'd been holding out.
Now that I have my this free resource from the library, I couldn't be happier to be listening to a book I haven't read since I was in high school: The Hiding Place by Corrie ten Boom. What a moving book, and I haven't even gotten to the difficult trials the family faced yet! Such a great read that I highly, highly, highly recommend.
There's a time limit on how long you can keep the book, and you do have to place a hold on more popular titles, but there are times when I just can't make it to the library when I want a new book, and this is a great option!
2. The Jesus Storybook Bible. Dash and I read every night before bed, and we had exhausted all of our Bible storybooks. We'd just finished reading and re-reading the Little Boys Bible Storybook several times, and I knew that we needed to move on to a new Bible storybook. It's one I definitely recommend, too, by the way.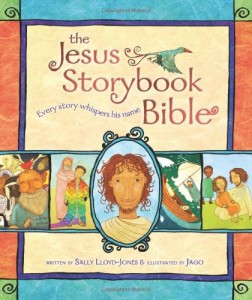 I had purchased The Jesus Storybook Bible several years ago, but it was too mature for Dash to get into. He's at just the right stage to get really into it now. I love the way the author weaves the Bible stories together to make it a cohesive story about God's never-ending love for us. It's beautiful! It's brought about several great discussions between Dash and me. Most of the accounts we've read in there are familiar to him, but the way in which they are presented makes them click on a deeper level.
I also find my own heart being touched as I read it aloud. We never are too old to be reminded of the depth of God's love for us.
3. I don't love Wal-Mart, nor do I know many people who do. I don't know what happens to people's brains when they enter that store, but there should seriously be a scientific study done to prove that something does happen to lower reaction levels in Wal-Mart. I rotate where I shop for groceries, and I love me some Target, so I have several different stores to compare my hypothesis with. Without fail, every single time I'm in that store, I will come close to having a shopping cart crash with at least 4 people. Then let's throw in the multiple tests of my patience and blood pressure levels as a fellow customer completely blocks an entire aisle while painstakingly trying to decide which type of mayonnaise they should buy only to leave the aisle without any mayo at all. (Can anyone else relate to this, or am I just crazy?)
Anyway, having said all of that, Wal-Mart has finally done something that makes me excited! One of the reasons I find myself going back to Wal-Mart in spite of all of the headaches shopping there has caused me is the fact that I can price match. (I'm going to digress yet again to say that not all cashiers are created equal in maintaining a positive attitude about price matching. I've encountered some who have made me stand in a longer line with a wiggling toddler just so I could avoid the wrath and death glares I will receive if I enter their check out lane with a request to price match my grapes and bananas.)
Okay, okay, back to what I do like about Wal-Mart. Enter their new feature called the Savings Catcher. I was skeptical when I heard all I had to do was scan my receipt and they would do the price matching for me, but I tried it just for kicks.
Drum roll please!
It works! I have nearly four dollars in my queue, which I will be getting back in a gift card as soon as I give them the word that I want it. For those of you like me who like saving but haven't devoted your lives to being couponing queens, this is a wonderful gift.
4. Here's one life hack that I attempted but didn't find as effective as Pinterest claimed it would be. In case you saw the idea of putting a wet paper towel around a beverage and sticking it in the freezer for two minutes to make it cold and wondered if it worked, don't waste your time. Granted, I only tried it with a plastic bottle of Dr. Pepper. Perhaps a can or glass bottle would be more effective at getting chilled really fast, but plastic bottles are a bust.
5. Recently, we have been contemplating getting a small pet for Dash. All of the ones that we could agree upon were more work or required more space than we were prepared to deal with. As we walked through the Lawn & Garden department at Lowe's a couple of weeks ago, we happened to notice a small Venus fly trap plant.
This is officially the cheapest, lowest-maintenance "pet" a little boy could ask for! It cost us $10, and the only "special" thing we have to buy for it is distilled water since the plants can't handle treated tap water. Dash gets to catch the bugs required to feed it, and it is truly fun to watch the plant trap its prey.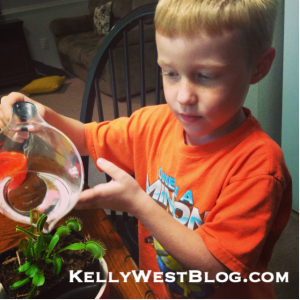 It's been a fun father-son bonding thing, too. My two boys go bug hunting with a toothpick dipped in honey to catch the bugs so they are still alive to feed to the plant. I'm so happy we've found the perfect little addition to our family to teach some personal responsibility to our five year old!