Dear Son,
The LORD spoke to me this morning in the instant after your little sister accidentally wrecked your Lego creation. Her mere 13 months' experience in life left her clueless to the magnitude of what she'd accidentally done, but the inspiration of your tears resonated far too closely to my own heart's emotions.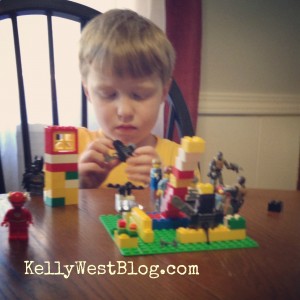 The last several months of my life have been an undoing of many things I thought were good about our ordinary life. Many of our day-to-day leisures and familiarities have been squelched with misunderstanding, betrayal, near loss, and monumental loss.
There are many things missing from what I held dear in my heart of hearts a year ago, but it's because of the circumstances that have brought about these changes that I now more truly and deeply love and value each thing and person that I do have.
I've been trying to put it all into words – the feelings that I'm working through as I rebuild the ruins into something new- but it didn't all come together until I sat down beside you as you mourned the loss of your first big Lego project. I felt each tear that streamed down your face, I heard my own internal voice in your tear-shaken one,
"But I loved what I built!"
"It was awesome the way it was!"
"I don't want to have to rebuild it."
Yes, yes, yes! I know what you mean, dear one. Rebuilding seems completely unfair, especially when you're not the one who caused the damage. You had worked hard and deserved the feeling of accomplishment.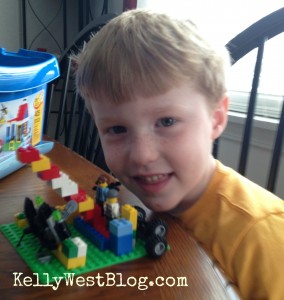 But you know what I'm learning as I wade through my own ruins and ask God to help me rebuild what's left into something beautiful?
He is always there to help you. He is saddened by your broken heart, and He desires nothing more than to bind up your brokenheartedness.
The Spirit of the Lord God is upon me,
    because the Lord has anointed me
to bring good news to the poor;
    he has sent me to bind up the brokenhearted,
to proclaim liberty to the captives,
    and the opening of the prison to those who are bound;

Mourning your loss is more than okay, but He does not intend for you to stay there forever. He has plans for your to move forward. And move forward you will when you choose to put on your garments of praise when you're too weak to take the steps you need to get there. I'm not sure if there's any higher honor than to be an oak of righteousness, and the only way you can become that is by going through the painful journey to grow into one.
to proclaim the year of the Lord's favor,
    and the day of vengeance of our God;
    to comfort all who mourn;
to grant to those who mourn in Zion—
    to give them a beautiful headdress instead of ashes,
the oil of gladness instead of mourning,
    the garment of praise instead of a faint spirit;
that they may be called oaks of righteousness,
    the planting of the Lord, that he may be glorified.
One of the beautiful things about the loss of something in your life is the new perspective God gives you through it. What you had before may have been good, but perhaps God wants you to have something that is more than good. He wants to help you rebuild it into something great.
They shall build up the ancient ruins;
    they shall raise up the former devastations;
they shall repair the ruined cities,
    the devastations of many generations.

                       ~Isaiah 61:1-4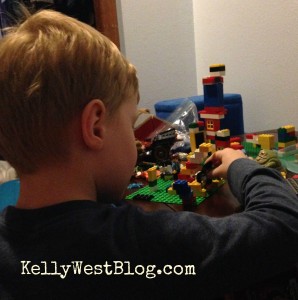 I hurt for you as you worked through the rebuilding, but I also loved watching your tears transform into determination to find ways to make your artwork a new version of awesome. You made peace with your loss and found joy in what you rebuilt, and I pray that you will always remember the principles we both learned as we remade Lego structures together. God is always good, and He will always be faithful to help you rebuild a crushed dream into a new dream.
Linking up with Jen Ferguson & the SDG Party