All of the anticipation and busyness of the holidays is officially behind while another year is now history. Today is the day that traditions and occasions are set aside or packed away while we establish what normal will look like for 2014.
Each year I adopt a word to be my focal point for learning and staying grounded with the ups and downs that will inevitably come over the course of 12 months. I always pray about what word God would want me to claim, but this year He handed it to me straight from His Word when I wasn't even searching for it.
Last week, I was reflecting over the events of the last few months, and I felt the weight of a couple of trials I'd been working through settling over me. This was not how I wanted to feel, nor what I wanted to dwell on, but I felt the strong grip of heartache taking over. No matter how much I counted all of the blessings, depression was knocking, prying at the door to come in and take residence.
So I prayed for God to deliver me, and did He ever! He would not let me move on with my day until I found a Bible study ("Breaking Free" by Beth Moore in case you're curious) I'd abandoned a few years ago. I had managed to write down the date I started it four years ago, and I shook my head. I thought back to the woman I was at that time, how oblivious I was to the spiritual warfare I was going to encounter, the lessons I had yet to learn, the humility I needed so desperately. Then I thanked God for His perfect timing as I began listening to the first session while I scrubbed dishes and fed my kids lunch.
The very first scripture Beth read aloud was from Isaiah 61:1-4. In the midst of a baby throwing banana on the floor from her high chair, a boy coloring Star Wars pictures next to his abandoned peanut butter dish, and my scrub brush removing chocolate milk from plastic cups, I heard God speak plain as day through His Word.
The Spirit of the Lord God is upon me,
    because the Lord has anointed me
to bring good news to the poor;
    he has sent me to bind up the brokenhearted,
to proclaim liberty to the captives,
    and the opening of the prison to those who are bound;
to proclaim the year of the Lord's favor,
    and the day of vengeance of our God;
    to comfort all who mourn;
to grant to those who mourn in Zion—
    to give them a beautiful headdress instead of ashes,
the oil of gladness instead of mourning,
    the garment of praise instead of a faint spirit;
that they may be called oaks of righteousness,
    the planting of the Lord, that he may be glorified.
They shall build up the ancient ruins;
    they shall raise up the former devastations;
they shall repair the ruined cities,
    the devastations of many generations.
God's gave me His Word for me this year with the promise that this year is the year of the LORD's favor. I am coming into this year filled with the hope that He will fulfill His promise to me and the prayer that I will be seeking His favor above what I want.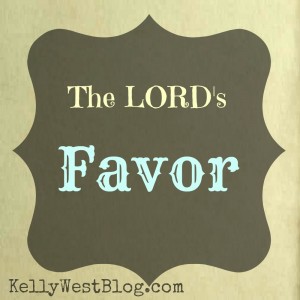 I share this story because I know that I am not the only one who needs to hear this promise. I know at least part of the stories that many of you dear people who take time to read this blog have lived this year, and I want you to know that this new year can be your year of THE LORD'S FAVOR as well.
The failures and heartaches that came with last year don't have to define this year. Let's learn from them and move on to focusing on the LORD's favor. How is He going to bless us this year? How is He going to prove Himself faithful? How is He doing it already, just two days into the new year?
Look for His favor in the exceptionally average moments of your life. Look for His favor in the happiest days of this year, and thank Him for the hope of His favor in the tough days ahead. My prayer is for you, friend, who may be right where I was a few days ago: on the cusp of giving into giving up on fighting Satan's attacks.
Fighting may be hard work, but nothing is more exhausting or defeating than giving up and being steamrolled by the enemy. So let's not dwell on the dark days of a year gone by, but rather, let's move forward with the purpose of being an oak of righteousness that brings honor to God in a new chapter of life He's giving us today.
Do you have a word for 2014? If so, I'd love to hear what it is and how you came to choose it. Feel free leave a comment or send an email.
Linking up with Soli Deo Gloria