From the beginning of mankind, God saw that we had a need only able to be fulfilled by each other.
When God, for the first time since creating the world uttered the words, "It is not good," it was after observing Adam's aloneness.
In His sovereign wisdom, God knew beforehand that He would create Eve, but He wanted Adam to see the difference human relationship makes in life. The richness, the joy, the depth that comes with sharing life with another.
And so God create Eve. To be Adam's helper, wife, and friend.
God created one of the most beautiful mysteries the day that He created Eve for Adam. He created human relationship.
Relationship has continued to bless, stress, confuse, and uplift humanity in the years following its creation. No human has lived without contemplating this unique gift that God has bestowed upon us, trying to decipher its complexities.
Strangely enough, as much as we all crave it, valuing friendship in our modern world has become lost in our quest to fulfill the duties that come with having busy lives. While there are many invaluable resources available to strengthen family relationships, it becomes a bit more challenging to find resources explaining how to foster quality friendships.
Several months ago, God began speaking to me about this matter that has always intrigued me. I could not shake the feeling that He wanted me to share at least a small part of His message about friendship.
My immediate reaction was trepidation. I'm no expert in this field, after all – just another human being who has had her fair share of lessons learned the hard way. But then God gave me an outline as clear as any outline I've spent hours trying to perfect, only this one came in a matter of minutes. It was in those few minutes as I scrambled to write down the words that came to me so suddenly that I realized this message was from God. I didn't need to be an expert with a degree in interpersonal relationship counseling. I simply needed to follow God's leading on this.
That's what I've been doing in the months following the revelation. Now it's time to start talking specifics with anyone willing to listen. If you've followed my blog for any length of time, you already knew that I've been working on a book about friendship. But now I'm ready to start sharing my passion that has only grown on this topic of quality friendship in greater detail.
Lord willing, I will launch the eBook "Trend Breakers: Discovering and Choosing True Friendship in a Lonely World" on December 6th of this year. (Here's a sneak peak of the cover photo!)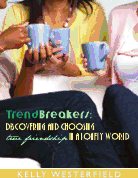 Would you like to be a part of helping this launch take place? If so, please read the information I have under the "My eBook" tab at the top of the blog. Next, email me, leave a comment with your email address included, or somehow let me know that you are interested in reviewing the book. It is crucial that I have as many people as possible help spread the word about this book! Even if you think the audience of your blog is too small, I promise it's not! Plus, you get your own copy of the eBook for free, and who doesn't love free stuff?!?
Not a blogger? That's okay, too. I would greatly appreciate your help in spreading the word once launch day arrives through whatever social media or word-of-mouth forms you feel comfortable using.
If you're new to this site, thanks so much for stopping by! I would love to have you as a part of this humble little community of women who want to find the exceptional power of God in our otherwise average lives. If you would like to receive updates when I add new posts, you can like my Facebook page, subscribe to my RSS feed, or receive new posts by email. You can also find all of these options easily by going to my home page and clicking on the appropriate icon located in the right side bar.