Let's be real here. It's hot. Pretty much everywhere in the USA. My part of the USA also has a lot of humidity, so it feels extra hot!
Let's be real again. Extreme heat can drive energetic little people crazy because they can't run off their energy in the usual manner. That's when it becomes necessary for us moms to get creative and plan activities besides the usual daily ones.
My three year old does a million times better on the days I have something new for him to try than on the days we just suffer through the hours inside together. So I'm going to share a few things that have been fun for us in hopes that another mom of an energetic little one will be inspired to find ways to more than just "survive" these brutally hot conditions with their squirming youngsters.
I didn't come up with all of these ideas on my own. You may have seen a few of them floating around on Pinterest, and some of them came from friends of mine who are just amazingly creative.
Last week's big success occurred when I transformed our dining/living area into a city for my son's cars and trains. Here are the supplies you need:
Painter's tape or masking tape
Old boxes for buildings
Optional – Street signs (Dash just received the Stop sign & RxR sign for his birthday last month, but if you don't have these, you could easily make them by taping the design onto the floor or using some old cardboard or card stock to draw them.)
To say he was elated when he first ran in the room was an understatement. Every picture I took of Dash playing is blurry because he was constantly driving his trucks and trains to their proper locations.
I was hoping for an hour's worth of entertainment, but he played with his streets and railroad tracks pretty much the entire day. I even left the tape on the floor for a couple of days, and he still excitedly "drove around town" each day.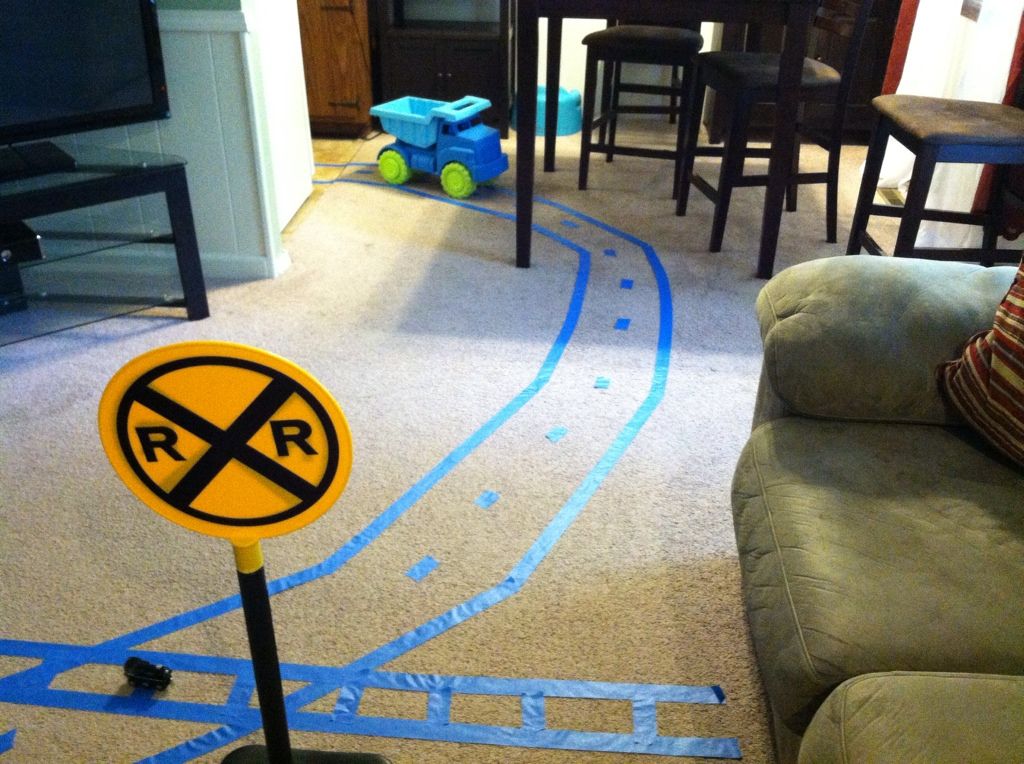 You can be as elaborate or as simple as you want. I've done more simple railroad tracks with tape in the past, and he always enjoys them as well, but this day called for something more elaborate. I gladly gave up the normal state of my living area for a couple of days of extra happiness for my little guy.
For you moms of girls out there, you could use this same concept to "build a house" for your daughter to play in. Just frame out the house and the rooms and let her be the queen of her little roost for a day.
I'll share some more ideas next week. In the mean time, I would greatly appreciate any ideas that you have tried with your kiddos as well that have been successes. We moms are all in this battle against the hot weather together, and the more ideas, no matter how simple they seem, the better. I personally prefer the simple ideas that I have supplies for already and can throw together in a few minutes. I kind of get stuck sometimes trying to come up with new ways to use what resources we already have on hand to make days that could be miserable fun instead.
If you're new to this site, thanks so much for stopping by! I would love to have you as a part of this humble little community of women who want to find the exceptional power of God in our otherwise average lives. If you would like to receive updates when I add new posts, you can like my Facebook page, subscribe to my RSS feed, or receive new posts by email. You can also find all of these options easily by going to my home page and clicking on the appropriate icon located in the right side bar.