I don't know about you, but one of the ways that I can easily slip into a rut of feeling less-than-exceptional is coming up with new dinner ideas. When a busy day comes, and I add picky eaters to the mix, I am always happy to find a go-to meal that is easy, actually contains vegetables, and most importantly is yummy!
I was so excited to find this recipe for an Asian Beef Noodle Bowl over at Meal Plan Girls' website. It has seven ingredients, most of which I almost always have on hand. Want to try it yourself? You can find Jen and Ashley's recipe here. I have tweaked it a little to better suit our family's tastes, so feel free to check out my variation below as well.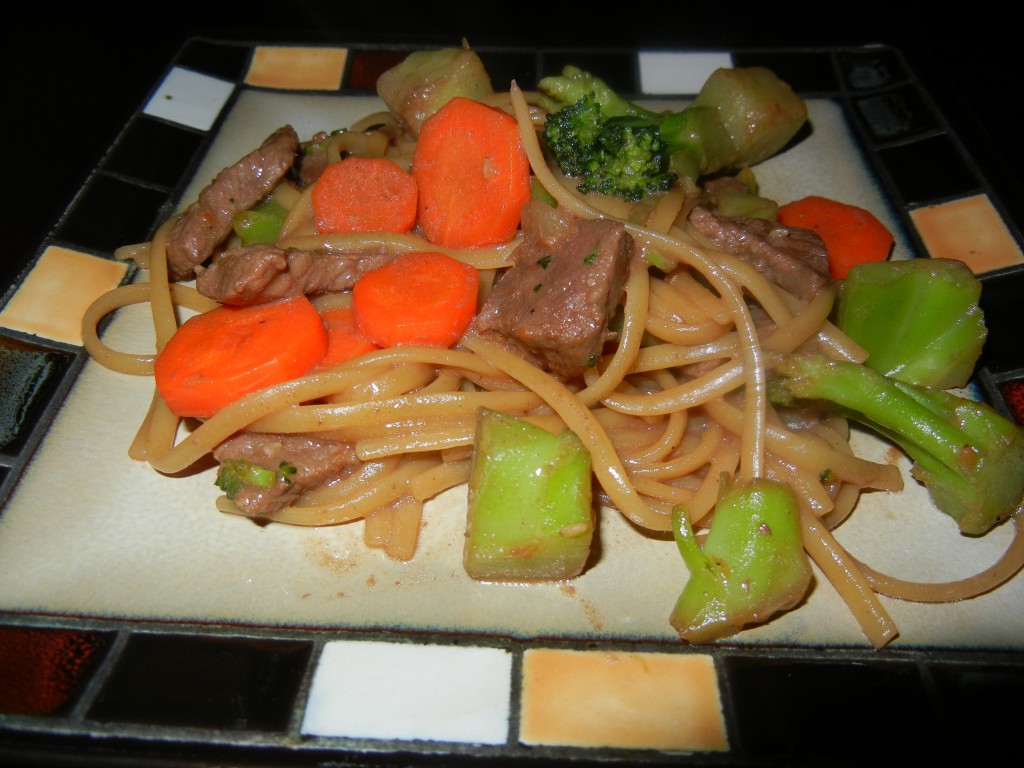 Ingredients:
8 oz. linguine (or spaghetti…whatever you have on hand)
3 c. broccoli florets (I use frozen)
3 carrots, peeled and sliced
1 lb. beef steak, cut into bite-sized pieces (I am going to use chicken instead sometime for something different.)
2 tsp. oil
1/2 c. Kraft Asian Toasted Sesame Dressing (AKA My favorite dressing ever!)
2 Tbsp. Teriyaki sauce
(If you cook Asian food as much as I do and you have some Hoisin sauce on hand, I throw in a tsp. or so of that as well when I'm making the sauce.)
Directions:
1. Cook the pasta according to package directions.
2. Add the vegetables in the last 2-3 minutes of cooking. Drain and place in a large bowl.
3. Heat oil in skillet.  Add meat; cook 4 minutes or until brown on all sides, stirring occasionally
4. Stir in dressing and Teriyaki sauce; cook 2 minutes or until sauce is thickened, stirring occasionally.
5. Add the meat mixture to the pasta mix.
Voila! An easy and delicious dinner!
If you're new to this site, thanks so much for stopping by! I would love to have you as a part of this humble little community of women who want to find the exceptional power of God in our otherwise average lives. If you would like to receive updates when I add new posts, you can like my Facebook page, subscribe to my RSS feed, or receive new posts by email. You can also find all of these options easily by going to my home page and clicking on the appropriate icon located in the right side bar.