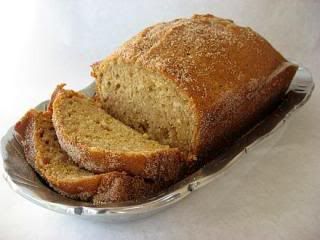 I awoke early last Monday with an energy unusual for me. It was Amish Friendship Bread making day, and I had a friend to whom I wanted to deliver it. As I got out the ingredients and began the process of preparing my new starter bags, I couldn't help but think about the beauty behind this sweet bread.
When a friend handed me the starter the week before, I took it with excitement, but each day that I mashed and released air from the smelly ingredients in the Ziploc bag I began to comprehend the depth of this gift's meaning.
This bread is more than a sweet treat. It is a symbol of what friendship is meant to be. It requires effort every single day, some days more work than others, but if I forget about it and do not tend to it carefully, the bread is ruined.
And now that bread-making day had arrived, the sweetness of friendships God has placed in my life began flowing freely in my memory. How blessed I am with the friends God has given me! Each one contributes a unique perspective that I would be poorer for not having gained.
While I poured out the starters into new bags, the excitement began to grow. "LORD, give me opportunities to share these symbols of true friendship to friends that don't often hear my words of appreciation. As they start their own process of making the bread of friendship, enrich their own view of those women who make their lives better."
The sentiments continued growing as the scent of cinnamon bread baking filled my home. Today I had the chance to share a picture of my growing view of friendship with an old friend. Seven years have a way of maturing girls into women, and I couldn't help but anticipate learning how God had been working in her life as He has in mine since our final days of college.
I smiled as I worked to carefully remove the freshly bake loaves from the pan, only to discover that yet again, I left the bottom of the loaf attached to the bottom of the pan. No longer did I have a beautiful symbol to present to my friend, but a flawed one. Pushing aside the urge to keep the loaf in hiding, I quickly accepted the more realistic picture of friendship I could hand her. So when I arrived with my somewhat mangled loaf of bread, I presented her with a picture of the real me. The one who has ugly flaws but earnestly works to be there for those I love anyway.
She received my humble gift with a grace-filled, "I've never figured out that trick of removing loaves from pans either."
Then we can work to figure it out together. Our friendship can grow because we have a common need for grace and opportunities to learn. We can work to nourish each other by sharing our hearts as we discover our ever-changing purposes as wives and mothers.
This is the sweetness I found in a Ziploc bag filled with a mysterious starter. An added motivation to pursue God's call to write about friendship even when it's hard, and to put what I learn into action when it is even harder.
Will you join me this week through my posts as well as guest posts, and in the months to come as I work to finish my eBook on the topic of what quality friendship is really all about? I find friendship is more effective when it's not done alone, so please join in, my friends.
If you're new to this site, thanks so much for stopping by! I would love to have you as a part of this humble little community of women who want to find the exceptional power of God in our otherwise average lives. If you would like to receive updates when I add new posts, you can like my Facebook page, subscribe to my RSS feed, or receive new posts by email. You can also find all of these options easily by going to my home page and clicking on the appropriate icon located in the right side bar.