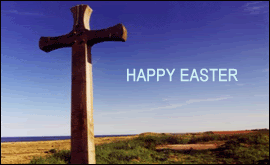 Sometimes it seems that holidays come and go without making much of a difference. I eat more candy and big meals, give and receive a few presents, and before I know it, it's history.
This started bothering me a few years ago as I put effort and joy into decorating for Thanksgiving and Christmas, but once the actual day came, I was kind of disappointed because the excitement that came with the season would end promptly the next day. The entire reason these holidays exist are for me, a daughter of God, to celebrate, honor, and remember what He has done for me. I'm not here to discuss the commercialization of the holidays, but one thing is clear: I am responsible for my reaction to the few remaining acknowledgements from society that Jesus has made an impact on history.
The more I grow in my faith, the more I see the incredible significance that Easter represents in my life. It's because of Easter that I have hope to keep the faith. While Christmas celebrates the wonderful miracle of God becoming man to fulfill His promise of saving the world, Easter celebrates the fact that the promise was fulfilled in a painful, humiliating death followed by His mind-boggling resurrection, sealing the deal for my salvation forever.
Easter, this holiday I can't help but consider the greatest of all holidays, has been just another Sunday to me far too many times. And as it approaches this year, I am praying that God will make me intentional in taking it to heart. I don't want it to be just an average Easter where the pews are more populated because of others' moral obligations. I pray that I am able to see God's life-changing power take place in not only my life but others around me.
I want to be passionate this Passion Week about taking to heart all of the love that was poured into Jesus' sacrifice.
But God demonstrates His own love toward us, in that while we were still sinners, Christ died for us. ~Romans 5:8
For I delivered to you first of all that which I also received: that Christ died for our sins according to the Scriptures, and that He was buried, and that He rose again the third day according to the Scriptures.  ~1 Corinthians 15:3-4

LORD, make me more passionate about You this Easter, and thank you for preserving this day to remember what you have done for me!
If you're new to this site, thanks so much for stopping by! I would love to have you as a part of this humble little community of women who want to find the exceptional power of God in our otherwise average lives. If you would like to receive updates when I add new posts, you can like my Facebook page, subscribe to my RSS feed, or receive new posts by email. You can also find all of these options easily by going to my home page and clicking on the appropriate icon located in the right side bar.