Today I welcome back Desiré to share some ministry opportunities God has given her as she raises her two small children. I pray you are inspired, as I am, to put yourself out there for the cause of Christ. What better way to teach our kids the importance of ministering to others than to let them see us do it first hand?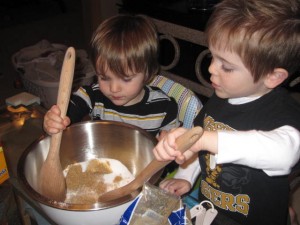 Eat.  Change baby's diaper.  Make a potty stop for the other.  Change clothes.  Eat some more.  And, oh wow, another diaper.  Play.  Discipline.  Read.  Eat again.  Sleep (optional).
Repeat.
This about sums up my life for the last few years.
Wednesday I shared how the Lord showed me the ministry within my own home.  Often that's more than enough to keep me busy.
But is it okay to stop there?
Well, I think that depends.  There may be seasons when it is wise to back off on commitments and learn the wisdom of saying "no" (something I have always struggled with) for the sake of your family.  I have, unfortunately, learned from experience what it means to put my family on the back burner so I can fulfill a commitment I probably never should have made.
BUT, sometimes I've used the stresses of caring for little ones as a convenient excuse to not put any extra effort anywhere else.  Period.
My husband and I have led the older kids in a Wednesday night program at our church for the last 5 years or so.  Since we began serving, we've had both of our children.  I've used those time-consuming little blessings as an excuse more than once for being ill-prepared to teach when I show up on Wednesdays.  Sometimes it's been legit.  Other times it's more a reflection of poor time management, too much Facebook, and a complete lack of motivation.
Then there's ministry outside the church.  Most options are out of the question:  organizing food pantries with toddlers is like trying to brush your teeth with an oreo, street evangelism downtown seems less than responsible, and last time I checked, most organizations look for volunteers who can take care of their potty needs themselves.  One of the few options left is ministering to the neighbors on my street.
Um.  But that's kind of awkward.  I see them all the time.  I don't want to be the weird girl.
I've used the fact that I have a 3 year old and an almost 2 year old as an excuse to stay inside out of sheer terror of what it might mean to try to do ministry with them in tow.  Terror that their behavior might be less than desirable, yes.  But mostly terror that people will think I'm nuts.
So, I try to embrace the "it's just the season of my life" mentality and tell myself that it's okay that I don't engage with my neighbors or any unbelievers in a meaningful way.  I really want that to be okay.  But I have this gnawing, unsettled feeling.  Mostly because, even though I know it's perfectly valid for some, I'm using it as an excuse.  I know my own heart and it's not pretty.
But the Lord fans the small flame that's left.  Ministry is not just for the professionals.  Ministry is not just for those who have tons of spare time on their hands.  Ministry is a lifestyle.  And I began to realize my "lifestyle" ended when I left my house.
I began falling asleep at night with prayers and ideas of how I could reach those the Lord has placed in my life.
Suddenly Wednesday nights weren't something I dreaded as a burdensome obligation anymore.
What can I teach these kids at church that will matter for a lifetime?  What do I wish I'd known at their age?  And as thoughts flood my mind, the passion to help them understand Scripture and the beauty of the gospel transforms my heart and my teaching.  I feel passion once again as I prepare and lead.  My heart overflows as I see them "getting it."
And the neighbors that I'm terrified will think I'm nuts?  Suddenly I have a longing for them to know the Jesus I know.
So the boys and I bake cookies for a new neighbor and share some with old ones too.  Cookies aren't so crazy, right?  It might seem small to most, but it was monumental for me.  I've made stuff for them before and never delivered it because for some reason, I'm gripped by fear.  But I do it.  The boys come with me.  They're cranky and I have a meeting I have to leave for in half an hour.  But I do it.
The result?
I'm now going on regular walks with the covered Muslim woman that I've lived next to for over 5 years and rarely spoken to. She has had trouble finding someone home during the day who likes to exercise.  I pack up a bag with lots of snacks and she and I take turns pushing the stroller for 4 miles.
While my boys are climbing all over her deck, my other neighbor asks if I'd want to plan a block party with her so we could get to know more of our neighbors better so we can feel more like a community.
And it's ridiculous, but I'm stunned.  Five years I've missed out on getting to know these incredible ladies who need a Savior.  I wonder what the future holds…
I don't say all of this to guilt you into doing more.  We are all too easily guilted into adding things to that "to do" list that hangs ominously over our heads.  I say this because God showed me that there was ministry right. in. front. of. me. and out of laziness and fear, I was missing out on INCREDIBLE opportunities.  Maybe part of that rings true for you?
Oddly enough, I've found it to be so refreshing to be a part of things outside of my home too.  Though it takes more effort, I'm actually finding it to be energizing!  If you're feeling overwhelmed with life, consider asking God to show you someone you can minister to either within your church or community.  Your ministry doesn't have to just consist of what happens within your four walls.  Consider taking your "lifestyle" outside your home and see what God does!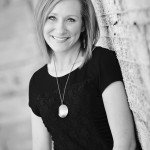 Desiré went from working full-time in Children's Ministry in the church setting to full-time Children's Ministry at home.  While her two boys keep her busy, she still loves being an active part of the Children's Ministry at her church and currently helps lead the 3rd-6th grade AWANA group there.  She also blogs with her dear friend, Jen, at When You Rise, a site dedicated to providing fun and meaningful ways to teach kids the Bible and encouraging others on this journey of parenting.  When she's not doing something kid-related, she loves reading, running, eating chocolate and hanging out with her family.