I know you'll be encouraged by reading the first of two posts from my friend Desiré. Today she tells her story about how God changed her view of ministry in a personal and powerful way. Be sure to check out When You Rise, a blog where she and my other friend Jen share fantastic ideas for teaching God's Word to our children in exciting and lasting ways. Thanks, Desiré, for sharing your heart with us today!   ~Kelly
Full time ministry used to be my "thing."  I'd dreamed of doing it since I was a young girl.  I grew up and followed that dream and pursued a degree in Bible Theology with an emphasis in Biblical Greek at the wonderful Moody Bible Institute.  The dream morphed from roughing it in a hut in the grasslands of Africa to working with kids.  I worked in one of the poorest areas in the States tutoring kids and sharing the love of Jesus with them.  I eventually entered into church work and worked in various ministries ranging from preschool teacher to after-school Bible club leader to director of a summer long church camp.  I got to work with the saved and unsaved.  The churched and unchurched.  I got to disciple and lead to Christ.  I was living my dream.
Then I did something I never thought I'd do.
I got pregnant and decided to stay home with my son when he was born.
I'll be honest.  This was not part of the dream I had once held.  I never dreamed of growing up to be a stay at home mom.  Ever.  But here I was.
As those first few weeks/months of adjusting turned into my new "normal," I found myself feeling void of purpose.  It wasn't that I didn't love my son with all my heart.  But at 3 months he didn't engage in much of a conversation when I told him about God creating the world or Jesus healing a man born blind.  I was now pouring myself into feeding schedules, poopy diapers and trying to muster up the energy to change out of my pjs.
So I settled into a ministry-less funk and found my new world less than fulfilling.  And then, little by little, God opened my eyes to what was right before me.  I've always been a firm believer that it's the parents' responsibility, not the church's, to teach children about Jesus.  My husband and I are our children's spiritual leaders, but I found myself doing little to make that happen.  What?!?!  How does that happen?  I used to spend HOURS preparing engaging and meaningful lessons to teach OTHER PEOPLE'S  kids about Christ and God's Word and I was doing little more than half-heartedly reading occasional Bible stories with MINE.
But the Lord was gracious and I began to see that every corner I turned WITHIN MY OWN HOUSE was an opportunity for ministry.  Stinky diaper needs changed?  Rather than an weary sigh, the diaper change can be met with funny faces, silly singing and lots of tickles.  Nails on the chalkboard whining?  Time for loving discipline so I can train them up!  And what about those Bible stories?  I don't want learning about the Bible to be fun and memorable at church and boring at home.  I began making a conscious effort to teach the Bible in meaningful, hands-on ways to my oldest when my youngest was about 6 weeks old.  Obviously, nothing elaborate was taking place, but since I now genuinely saw my mommy role as ministry, this sleep-deprived woman made it one of the few priorities I had at the time.  I didn't have energy or clarity of thought for much, but these 3 things became my daily goals:
1) Feed my children.
2) Make sure my 18 month old doesn't physically harm my newborn.
3) Show them Jesus.
Ministry is much simpler than we sometimes make it out to be.  It doesn't take a degree in Greek.  It doesn't take an official title and a paycheck from a church.  Ministry is not something best left to the professionals.  Ministry is a mindset that sees others need for Jesus and, with Jesus' help, points them to him.  It's your job and mine, no matter what title we hold.  And we're in this thing full time.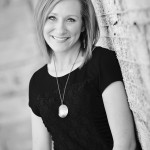 Desiré went from working full-time in Children's Ministry in the church setting to full-time Children's Ministry at home.  While her two boys keep her busy, she still loves being an active part of the Children's Ministry at her church and currently helps lead the 3rd-6th grade AWANA group there.  She also blogs with her dear friend, Jen, at When You Rise, a site dedicated to providing fun and meaningful ways to teach kids the Bible and encouraging others on this journey of parenting.  When she's not doing something kid-related, she loves reading, running, eating chocolate and hanging out with her family.  
Missed the Other Posts in the Series on Overcoming Mediocrity in Ministry? Check them out!

Rising from the Pit of Mediocrity
What is my Ministry?
What If I Minister?

If you're new to this site, thanks so much for stopping by! I would love to have you as a part of this humble little community of women who want to find the exceptional power of God in our otherwise average lives. If you would like to receive updates when I add new posts, you can like my Facebook page, subscribe to my RSS feed, or receive new posts by email. You can also find all of these options easily by going to my home page and clicking on the appropriate icon located in the right side bar.