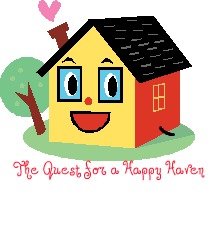 Here's the deal. I am not an organization queen. I am so unsure of whether or not a paint color or new arrangement of furniture looks good that I get at least 15 different opinions before I commit to it. I currently have playdough stuck in my carpet and don't know what my dresser looks like without clutter adorning the top of it.
My house is a work in progress, and I've found peace in the fact that I will never have an immaculate home. It's just not who I am, no matter how hard I've tried. I much prefer to live in a house that feels like home because it looks and is lived in.
As a stay-at-home mom who rarely has possession of our solitary family vehicle, I don't get out much. I mean really. I have to explain to my son that there are other places to go besides church, Wal-Mart, and Grandma's house because he rarely sees anyplace besides those three buildings.
So since we are in this house pretty much all of the time, I think it's of great importance that all of the members of our family feel comfortable here. I also pray that each guest who enters our home feels cozy and at-ease as well. That goal doesn't happen without effort.
In the Quest for the Happy Haven series, I plan to address some of the things I've learned along the way to make this humble little house we've worked to make our home and refuge a place we can take pride in and enjoy.
I'm telling you from the beginning that I do not have it all figured out and I am far  from an expert. If you're wanting mind-blowing transformation ideas, keep tuning in to HGTV. They know what's hip, and I do not. I'm just inviting you along to figure out together what does and doesn't work. Believe me, I could use the help!
One thing I've realized is that homes and all that do (or don't) come with them are an easy means for women to fall into the rut of feeling mediocre. We know about the nooks and crannies no one else does. We know how long it's been since we last cleaned said nooks and crannies. Oh and let's not even start on the lack of space! The discontentment only intensifies after seeing a more new, clean, organized, and chic home while picturing our dirty walls and ancient carpet. (Thank you, Pinterest.)
It's a dangerous game females play called Comparison. I've played it far too many times, and I've yet to come out a winner. After ending up with a bruised ego enough times, I've come to find that God knew exactly what He was talking about in Hebrews 13:5, "Let your conduct be without covetousness; be content with such things as you have. For He Himself has said, 'I will never leave you nor forsake you.'"
So how does one keep from comparing and ultimately coveting without becoming stagnant and unable to improve upon what she has been given by God? It all comes back to balance in our perspective. We must be content with what we have, but when God, Who actually owns all that we have, provides the means for us to take good care of the home with which He's blessed us, we can't sit around unwilling to change when necessary. I'm all about embracing the fact that we can be average, as in being willing to relate to others, without being mediocre – unwilling to accept God's call on our lives to be His exceptional, lovely, and empowered daughters.
I'm so excited to share the resources and practical and frugal tips I've discovered along the way in my quest to make my home a haven. I also need your help to make this an awesome series. Come on now: you have your own tricks up your sleeve, and I would love to hear them! Be sure to send me an email (kwesterf@gmail.com) or leave a comment with your own ideas of how to have more than a house you exist in, but rather a home where you can take refuge from the crazy world surrounding it.
Have you entered the giveaway I shared with you on Tuesday? If not, be sure to check it out!
If you're new to this site, thanks so much for stopping by! I would love to have you as a part of this humble little community of women who want to find the exceptional power of God in our otherwise average lives. If you would like to receive updates when I add new posts, you can like my Facebook page, subscribe to my RSS feed, or receive new posts by email. You can also find all of these options easily by going to my home page and clicking on the appropriate icon located in the right side bar.