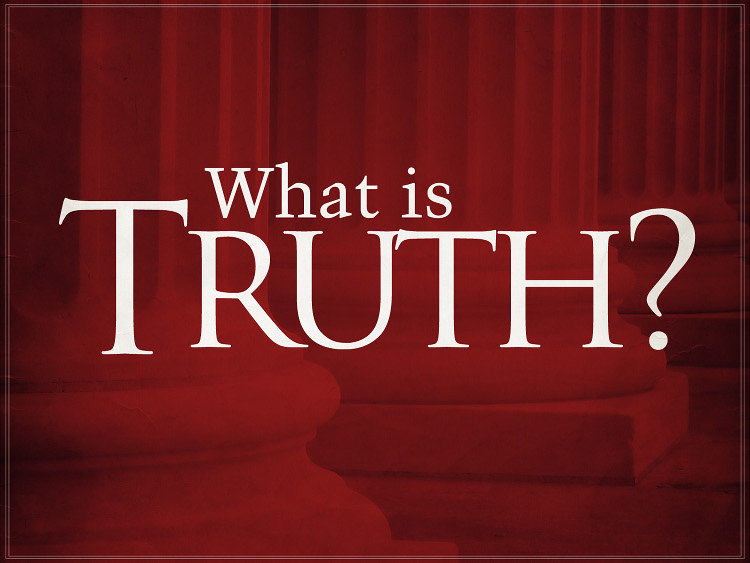 What is truth?
It's such a confounding a question in 2012.
Truth. A solitary word that brings about heated debates, leaves people searching and confused, and is often defined with a vague answer.
But what is it? Aren't people tired of being lied to? Don't we just want honesty? While it's easy to hear the answer, "Truth is whatever you want it to be," there is still a yearning that won't stop nagging at the soul who tries to find peace in this answer.
Truth is one thing.
Jesus said, "I am the way, the TRUTH, and the life. No man comes to the Father except through me." John 14:6
While so much of the world is offended by this answer that I know to be absolute truth, I can find comfort in the fact that while I'm not worthy, I am forgiven and given direct access to God because I have chosen to follow the Way, Truth, and Life.
But do I live each day as if I truly believe the truth?
How do I apply the importance of absolute truth to my everyday challenges and responsibilities?
By focusing on the truth.
There are a lot of appealing lies that vie for my attention. Lies that claim I need to compromise my standards to fit in. Lies that I need to be more tolerant of other views.
There are even more lies that fight to take over my mind. They sound something like, "I cannot be used by God. I am missing out on something. I am not playing a vital role for God's kingdom."
Indeed I must believe, even embrace, truth on every level.
Finally, brothers, whatever is true, whatever is honorable, whatever is just, whatever is pure, whatever is lovely, whatever is commendable, if there is any excellence, if there is anything worthy of praise, think about these things.
~Philippians 4:8
My sister in Christ, will you join me as we enter into this week to purposefully focus on the truth that has set us free? Let's crush the lies that try to define and confuse us with the name of Jesus, who is without a doubt, Truth.
If you're new to this site, thanks so much for stopping by! I would love to have you as a part of this humble little community of women who want to find the exceptional power of God in our otherwise average lives. If you would like to receive updates when I add new posts, you can like my Facebook page, subscribe to my RSS feed, or receive new posts by email. You can also find all of these options easily by going to my home page and clicking on the appropriate icon located in the right side bar. Have a blessed day!