I will be linking up today with The Gypsy Mama's Five Minute Friday. I strongly encourage you to check it out for yourself, read the words of other women's hearts on today's topic, and maybe even write about it yourself!

Today's word is Delight.
Delight yourself also in the LORD and He will give you the desires of your heart. ~Psalm 37:4
I remember loving that verse as a girl. It was beautiful, full of promise, and it was in my growing repertoire of memorized scripture.
I remember hearing multiple sermons on this verse as I've grown up. I've heard it explained for what it really means, and as a result I started to love the verse for deeper reasons. God will give me my desires, but He must be the one in charge of my heart.
So I began trying to delight in Him. I worked to forget about my own agenda.
I failed more than once.
But then He came through and helped me see the joy in finding success in this verse's call. It is not easy to delight in Him when I cling to the world's pleasures.
I love food. I love entertainment. I love feeling accepted by others.
Yet all of those things are fleeting. And he has been there to pick me up when no one else can pick up the phone. He has been there when I don't know how we're going to pay for our groceries. He has been there when I feel his conviction about turning off a show that is far from bringing him glory.
And he shows me delight. Delight in Him. Delight in peace. Delight in having my own fleshly desires change into desires to see His face. To find His kingdom alive in me.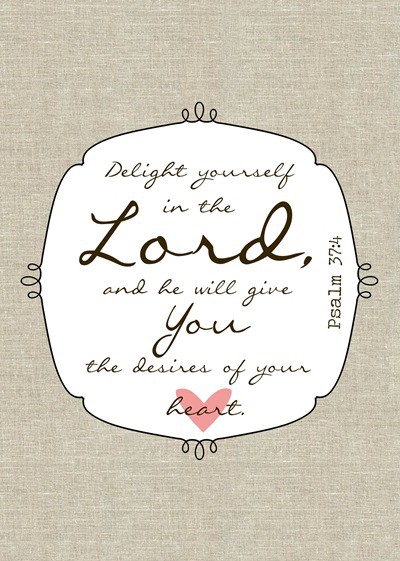 If you're new to this site, thanks so much for stopping by! I would love to have you as a part of this humble little community of women who want to find the exceptional power of God in our otherwise average lives. If you would like to receive updates when I add new posts, you can like my Facebook page, subscribe to my RSS feed, or receive new posts by email. You can also find all of these options easily by going to my home page and clicking on the appropriate icon located in the right side bar. Have a blessed day!