When I think back to how complicated and awkward life was when I first entered the dating scene, I thank God it's over. No more lying awake at night, trying to figure out if this guy really liked me or not. No more fussing over what to wear or say the next time I saw him. Yep. I happily traded in those days for a marriage to a wonderful man who loves me for who I am without a doubt.
When we added parenthood to our list of accomplishments a few years back, I started to notice some of those old "dating days" symptoms arising again. Does this man really like me anymore with my stretch marks and boxy t-shirts? Does he find any joy in the thought of coming home to me when he knows I'll look just like the mess that I am on the inside? The irony of this whole scenario was that I was having all of the dating girl insecurities without actually going on a single date with my husband.
Well, there was that one date we tried going on when our son was a month old. I knew he was in good hands with my parents, yet I spent the entire length of the movie stressing over the possibility of the little guy's head exploding at the spot where I accidentally bumped it right before we left. So that wasn't exactly a date worth remembering.
Several months later, my husband and I were so in need of a date it was ridiculous. We spent those months doing what we thought was noble. We threw ourselves into our responsibilities as parents and leaders in our church, and held onto the knowledge that we loved each other.
Somewhere along the way, we started to realize how far from happy we felt as a couple. The fact is, love is not enough unless we're putting effort into proving it and living it out. Everything in life needs to have a balance, and that includes the amount of time we spend with and apart from our children. So we started collecting restaurant gift cards we received for Christmas and made it a goal to go on one date per month.
I started to notice that we began communicating more in the day to day when we were making dating each other a priority. I also love knowing that my son is learning some important lessons about the purposeful efforts that go into making a marriage successful.  He deserves to have parents who care enough about him to care about each other.
Now I know what some of you are thinking. "That's all nice in theory, but there are a couple of problems with going out on the town with my man. First off, we don't have family (AKA free babysitting) close by. Second, we don't have the finances to enjoy a date in a restaurant that doesn't have a value menu."
Those are some big challenges to overcome, I know. While I'm blessed to have family close by, I do understand the inability to go out for a date at times due to the lack of funds. What have I discovered? It's all in what you make it. If you can't make your date a night out, determine to have a special night in. At-home dates just work better at certain times in your family's life.  When you have a baby who needs nursing every two hours or your family has been quarantined by illness for what seems like forever, Mom and Dad sometimes need a break from the parenting survival mindset to reconnect as a couple.
There are tons of ideas online for fun dates with your spouse. A couple of my favorite resources are The Dating Divas and Love Actually.  If you're a creative type with some money to spare, you can do some pretty elaborate things. If you're not, or more importantly, your spouse is not the type to get into elaborate things such as this, try some of these simple things – or your own more special ideas – soon.
Movie night: Cost – Renting a movie from Redbox -$1.20 or you could also re-watch an old favorite DVD for free!
Game night: Remember those board games and deck of cards you used to play with when you had friends over? What's stopping you from dusting them off and giving them another whirl?
Spa night: You can be as elaborate or as simple as you like. Go on YouTube and find some calming music, whip out some massage oil or lotion, and take time to pamper your husband.
Themed or Candlelight Dinner: If dinner is a possibility on your date at home, make it more special than your usual evenings together. Make or pick up carryout for a favorite Chinese dish then plan some activities that go with Chinese. Origami swan making competition anyone?
Stroll Down Memory Lane: Pull out old pictures, watch your wedding video or videos of your kids when they were younger. There's nothing wrong with talking about your kids on your dates from time to time. They are a big part of your life, after all, and no one is going to more excited to see what they've accomplished in their short lives than your spouse.
Dating has the potential to be complicated no matter what season of life you're in. Choose to make it fabulous now that you have a man who is committed to you. It really boils down to the determination you're willing to put into making it happen no matter what.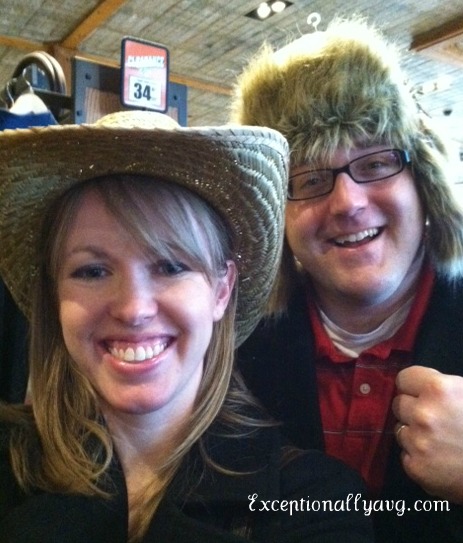 My fun-loving husband  and me on a date last weekend. We have this goofy tradition of trying on hats when we're out shopping.
If you're new to this site, thanks so much for stopping by! I would love to have you as a part of this humble little community of women who want to find the exceptional power of God in our otherwise average lives. If you would like to receive updates when I add new posts, you can like my Facebook page, subscribe to my RSS feed, or receive new posts by email. You can also find all of these options easily by going to my home page and clicking on the appropriate icon located in the right side bar. Have a blessed day!