I didn't always realize that I wanted to be a teacher. In fact, I fought it for a long time. But the more I matured, the more I saw I was built for it. I was called to it. So I quit resisting and jumped into the life of lesson planning, grading, and determining entertaining ways to educate skeptical teenagers.
For four years, my life became the 150 teenagers assigned to my English classes. I grew up fast when I began listening to them pour out the details of their lives, sometimes heart wrenching, other times beautiful. I grew to not mind the piles that grew on my desk when one or more of them would come into my classroom after school to receive a taste of Christ's love in me. When they started coming in before school as well, I arrived earlier so I could get my work done before they arrived and needed some attention. It was a hard job, and most days I loved it, but other days it was all I could do to drag myself out of bed to hear the immature, cutting words many of them would utter at me.
But I knew it was my calling. I knew they needed me to be there for them unconditionally. I knew that in the long run, my investment into their lives would pay off. This recent find on Pinterest summed up perfectly the motivation that helped me push my shoulders back and face the difficult days where my lesson plan flopped and the students were uninterested in what I had to say. Oh yes, and for the days when I had to accept that they were learning from how I handled apologizing and recovering when I made my own mistakes.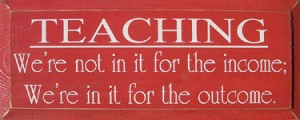 The first couple of years, I didn't see many results. It was difficult, sometimes humiliating, and always exhausting. But by the end of my four years invested in that school, I felt respected for the most part. I've had even more blessings heaped upon me by so many of these wonderful young adults in the three plus years since I've stopped being a daily part of their lives. While I do not in any way take credit for all of the accomplishments and realizations they've come to on their own, I feel privileged to have been a part of their journey of learning. I feel humbled and appreciated by their loving messages, visits, and invitations to be a part of their special days. It's encouraging to see fruit from the effort I put in when I could not see that it would someday pay off with far greater dividends than I put into it.
When I came across the quote last week, I was struck with how much like teaching motherhood really is. As my son's teacher, I'm the one doing the majority of the investing at this point. Why can't I let go of the clutter and dust that accumulates around my house when I'm focused on potty training or building towers with blocks? If the piles on my desk didn't determine the quality of my teaching in my career, the piles in my house shouldn't reflect the quality of my mothering either.
When defiance erupts from my current, precious student as I'm working to teach him God's way of doing things, I can't lose heart with his slow progress because these things just take time. As I set my alarm to get up while my little bundle of energy recharges in his bed for another hour, why can't I view this as my job? I would get up far earlier for my career, and be as productive and cheerful as I knew to be while most of the world slept.
I've reached a paradigm shift in my view of mothering. Being in the midst of all the chaos that goes into raising a preschooler was definitely getting me down, and believe me when I say I still have moments days. When I look at it as the beautiful calling, and job (in a good way) that it is, I can stand taller when I handle the screaming, spills, and accidents that make up my days. They're all part of a much bigger picture, and I'm in this thing for the outcome – a son who brings glory to God and shows love to others.