One of my favorite things about fall is the cooler temperatures. Now that it's not a million degrees outside, I can once again fire up my oven and bake some yummy treats. I'm pretty sure that it's required to bake and/or eat as many apple recipes as possible once September arrives. At least that's what I decided when I found this apple coffee cake recipe by Emeril Lagasse on foodnetwork.com. I did the only logical thing; I pinned it on Pinterest and then continually drooled over the picture that accompanied the dessert until it was time to stop pining over it and do something about it.
Last week I finally found an excuse to make it, so I pulled out my mixing bowls and got to work. If you could have been a witness to the crazy mess that ensued in the process of making this cake, you'd appreciate it even more. Not that the recipe is a difficult one, but I was just having one of those days. Long story short, half of the dry ingredients ended up coating a good portion of my kitchen due to a clumsy moment. My sous chef, Little Man, and I got a good laugh out of it, and in spite of the extra mess, we recovered enough to forge on and get that batter finished and into the oven…after it met the sous chef and official taste tester's approval.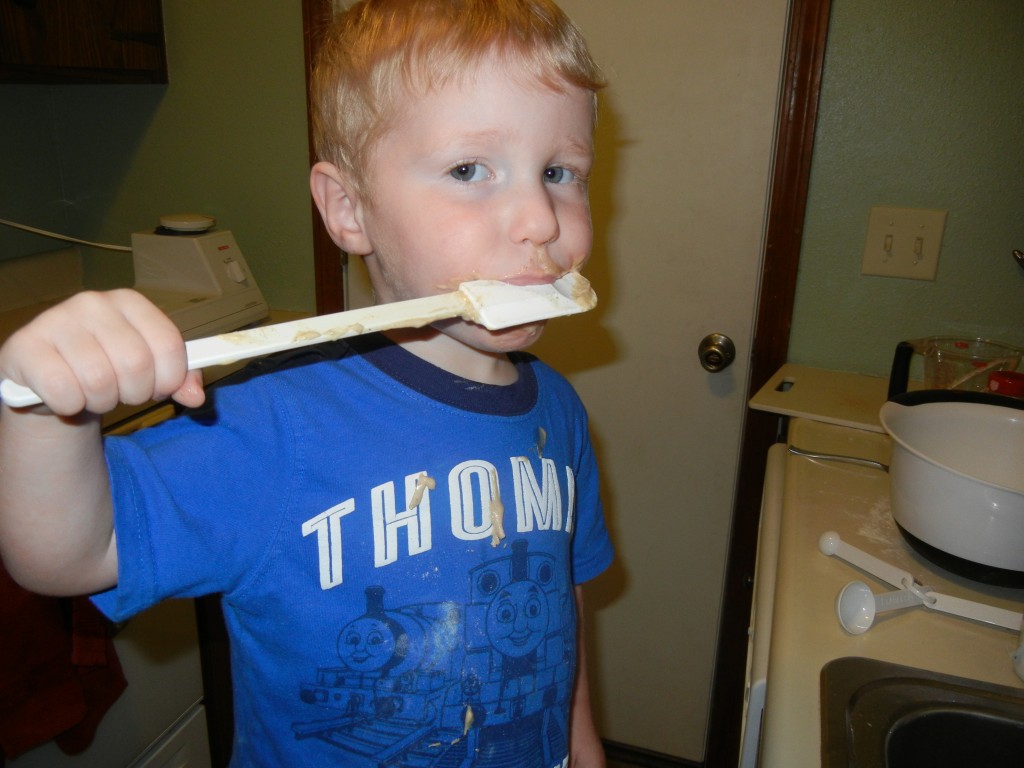 For the record, the mess wasn't even my helper's fault. He was waiting patiently for me to tell him it was okay to turn the mixer back on. I love having him help me in the kitchen, even if it is often him who adds a crazy element of messiness to things (like an egg thrown on the floor or a toy train in the brownie batter as has happened on previous occasions).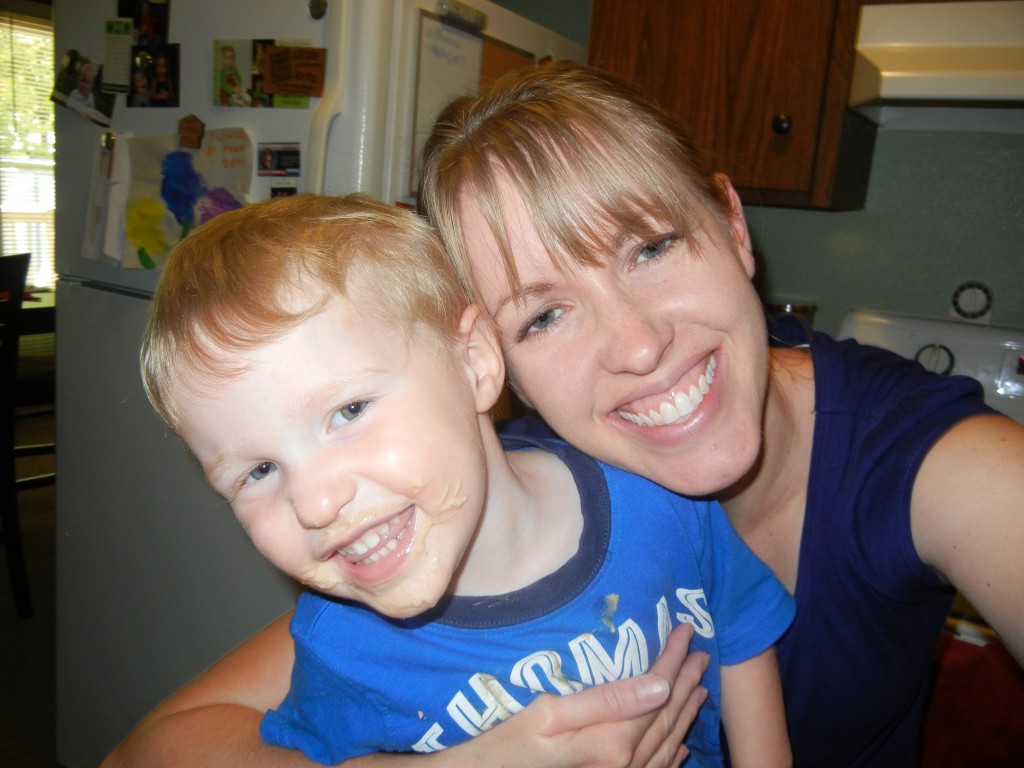 Here's what you need to do if you'd like to try it yourself. (I'm not trying to be pushy or anything, but you really do want to if you're into moist, cinnamon-scented, apple-y goodness with just the right amount of sweetness.) It reminded me of that light feeling of zucchini bread only better because of the crumble and caramel-like glaze on top.
Cake:
1 stick plus 2 teaspoons unsalted butter
1 1/2 cups packed light brown sugar
2 large eggs
2 cups all purpose flour
1 teaspoon baking soda
1 teaspoon ground cinnamon
1/2 teaspoon salt
1 cup sour cream
1 teaspoon pure vanilla extract
2 cups peeled, cored and chopped apples
Crumble Topping:
1/2 cup packed light brown sugar
1/2 cup all purpose flour
1/2 teaspoon ground cinnamon
4 tablespoons unsalted butter, softened
Brown Sugar Glaze:
(I changed this slightly from the original recipe because some of the reviewers thought it might be better this way. The original recipe called for water instead of butter, but there were several complaints that it was too grainy with water. The butter idea turned out to be pretty awesome in my opinion, but if you're wanting to be healthier, just mix the sugar, vanilla, and water in a bowl until smooth.)

1/2 cup packed light brown sugar
1/2 teaspoon vanilla extract
2 tablespoons melted butter
Preheat the oven to 350 degrees F. Lightly grease a 13 by 9-inch glass baking dish with 2 teaspoons of the butter.
In a large bowl, cream together the remaining stick of butter and sugar until light and fluffy. Add the eggs 1 at a time, beating after the addition of each. In a separate bowl or on a piece of parchment, sifttogether the flour, baking soda, cinnamon, and salt. Add to the wet ingredients, alternating with the sour creamand vanilla. Fold in the apples. Pour into the prepared baking dish, spreading out to the edges.
To make the topping, in a bowl, combine the sugar, flour, cinnamon, and butter, and mix until it resembles coarse crumbs. Sprinkle the topping over the cake and bake until golden brown and set, 35 to 40 minutes. Remove from the oven and let cool on a wire rack for at least 10 minutes.
To make the glaze, in a small sauce pan, melt the butter. Add the sugar and vanilla and bring to a boil, stirring frequently. Drizzle the cake with the glaze and let harden slightly. Serve warm.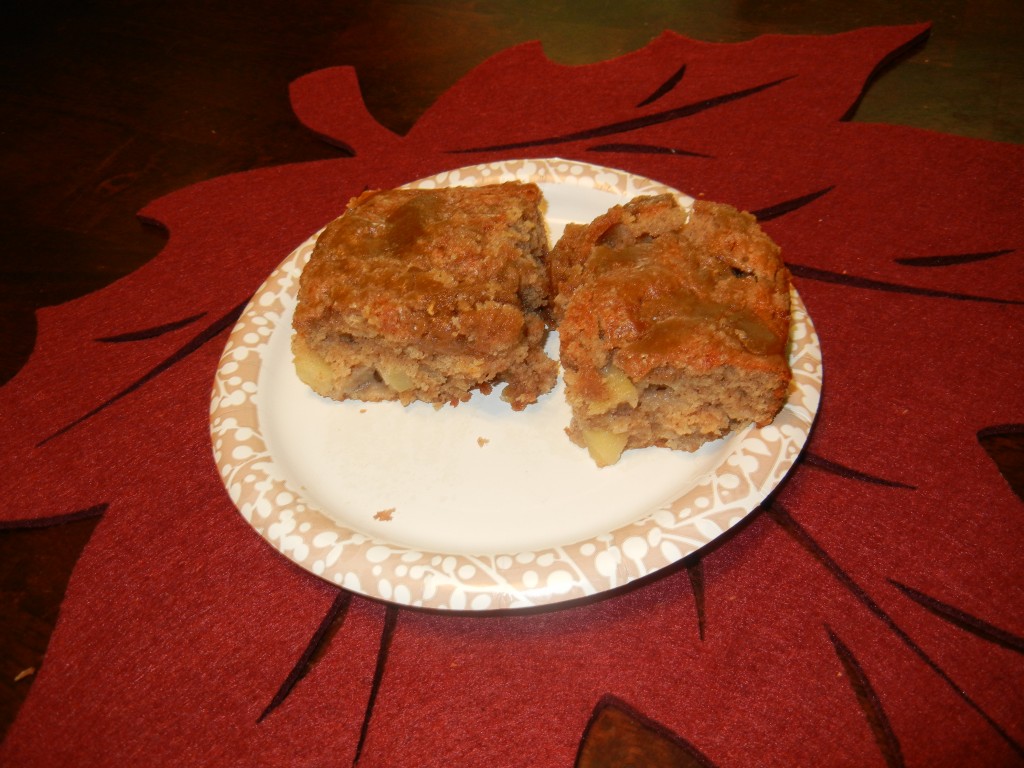 I'm sharing this at: