One of my absolute favorite fall meals is beef stew. Growing up, I got excited when we had roast for Sunday lunch because I knew that the next night, we would have stew with the leftovers. Well, we don't have roast much around our house because it turns out that while my man and I enjoy a nice roast from time to time, we both just love stew more. So, thanks to my mom's guidance and some trial and error over the years, I've come up with an easy beef stew recipe that speaks comfort to our souls and stomachs on cool fall evenings. Okay, who am I kidding? We have it year round.
To make it even better, it's a crock pot meal. Who doesn't love that?
Here's what you need.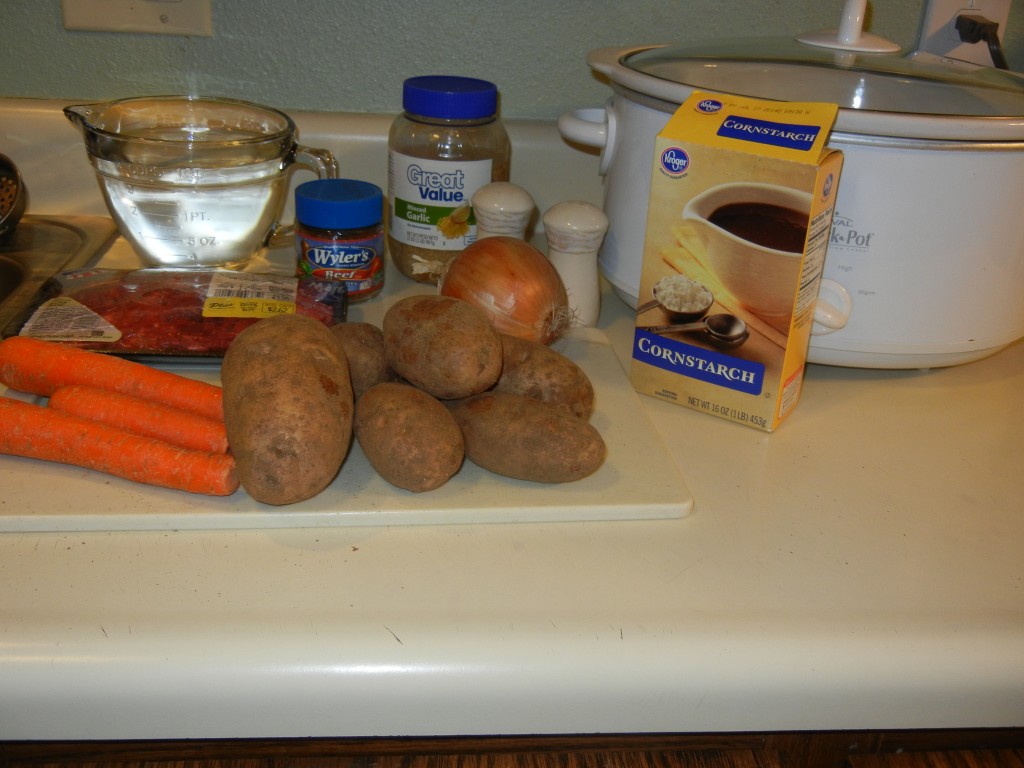 1 package stew meat (I watch for this stuff to go on sale. It's wonderful because it's pre-chopped and only requires opening the package and throwing it into the crock pot. Even when it's not on sale, it costs around $4 per pack, which isn't bad considering it makes enough for dinner plus leftovers.)
5 medium/large potatoes, peeled & chopped
3-4 carrots, peeled and sliced
1/2 medium onion (If I don't have an onion on hand, I just add onion powder or the dehydrated chopped onions you can find in the spice aisle)
1 heaping Tbsp. minced garlic (The kind in the jar because it's way easier.)
4-5 cups beef broth (Here's my money-saving tip. If you don't use bullion granules to make your beef or chicken broth for recipes, let me recommend you give it a try! A jar of bullion makes 30 cups of broth and costs between $3-4. Broth in a carton-enough for one recipe-costs $1.50-$2 minimum. You do the math. And I promise the flavor of the finished product is not compromised.
1 tsp. salt
1/2 tsp. pepper
Thickener:
1/2 c. corn starch
1/2 c. water
Directions:
1. Peel and chop your vegetables and add to the crock pot. While you're working on this, go ahead and put 5 cups of water in the microwave for about 4 minutes, or until boiling. This will make the bullion dissolve as it should to make a tasty broth.
2. Add the stew meat on top of the vegetables. Many recipes say to coat the meat in flour and fry before adding to the crock pot. I used to do this, but one time I forgot, and it turned out tasting just the same. Plus, the meat was more tender. My philosophy: why add an extra step and dirty more dishes if I don't have to?
3. To make the beef broth, add about 2 Tbsp. of bullion to the boiling water. That's the amount that seems to work the magic for our taste buds, so adjust as necessary to fit your taste. Stir until the granules are dissolved.
4. Add the remaining ingredients, minus the thickener ingredients, to the pot.
5. Cook on low for 6 hours or on high for 3-4 hours on low.
6. Just before getting ready to serve, mix the corn starch and water together in a small bowl. Then add small amounts at a time into the stew until it reaches the thickness you desire. It can be as soupy or as thick as you like. I don't usually measure the cornstarch, so you might need more if it's still more like beef soup than stew.
7. Add more salt or pepper to taste if desired.
Enjoy with some fresh bread or biscuits. This is one of three dishes that my son readily gulps down, so hopefully it will be a success in your household as well.